Name
maloadmon – Display load average figures and uptimes continuously.
Synopsis
maloadmon [delay_sec]
Description
The Ma_Sys.ma load monitor uses terminal colors to indicate different load averages over time. By default, it prints one triplet every minute. Once the screen is full, a line indicating the current uptime is printed.
It is intended to be used in case of long-running computations to check that if the machine is evenly loaded or as expected. The non-interactive and lightweight design makes this program also a good choice for a monitor to run on one of the virtual terminals.
Note that while it captures certain workloads, load averages are not suited as a comprehensive monitoring facility.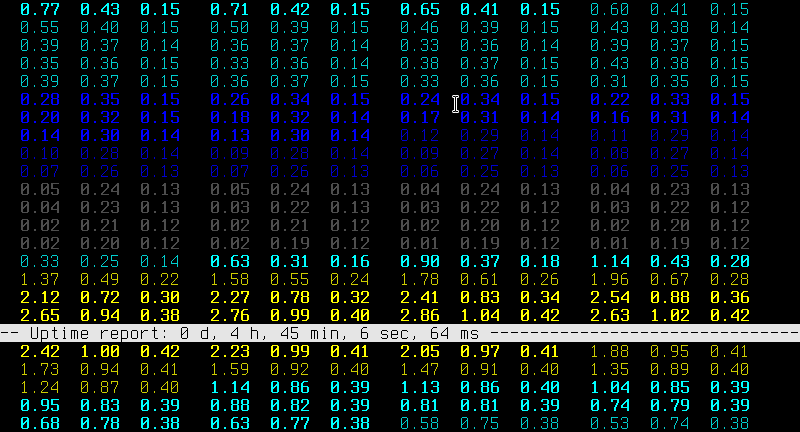 delay_sec

Configures the delay between updates (default: 60sec).
Order of colors is as follows (t is for "thin"):
gray < tblue < blue < tcyan < cyan < tyellow < yellow < tmangentha < mangentha < tred < red
Compilation
Compile the program as follows:
$ ant
Build a Debian package (having the necessary dependencies for package creation installed) as follows:
$ ant package